Your ColorAlchemy Assessment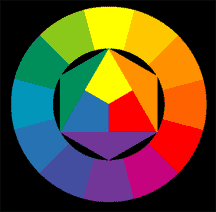 | | | | |
| --- | --- | --- | --- |
| Section 1 | Indigo | score | |
| Section 2 | Yellow | score | |
| Section 3 | Orange | score | |
| Section 4 | Green | score | |
| Section 5 | Violet | score | |
| Section 6 | Blue | score | |
| Section 7 | Red | score | |
Nothing is black or white. Your ColorAlchemy score is a guide to improve low energies,
not to determine good or bad. Higher numbers identify which of the color's attributes
are stronger in your personality.

The key to Living ColorAlchemy is balancing your inner rainbow to:

Awaken your greatest potential,

Instantaneously turn a stressful situation into one that is calm,

Create positive thought and behavioral patterns,

Expand creativity, vision, and intuition, and

Develop greater inner peace and outward joy.
ColorAlchemy:
Evaluates the root of low energies
Provides tons of quick, two-minute techniques to
Strengthen and Balances your colors.

Alchemically, invest a few minutes with the Daily Colors and their attributes.
By the end of each week, you absorb the:
Specific benefits of each daily color
Combined energies to align with nature's perfection and the Light of the Creator
By practicing Two-Colorful-Minutes a day, ColorAlchemy becomes second nature to:
Receive colorful energy at a moment's notice by:

Looking around, recognizing, and

Absorbing the needed color through your mind's eye and visualization.
Use color to support daily tasks.

Consider your daily schedule. When you wake up feeling sluggish or you have an important event, after being "colorfully aware," it is easy to choose the appropriate color(s) to enhance the opportunities of your day.

In the same way you experience a fleeting rainbow,
consciously create colorful moments to pause and enhance your daily routine.
Create ColorAlchemy moments of inner peace, clarity, and inspiration.
It is so easy to become a Color Alchemist!




® EarthDesign™
are registered trademarks and servicemarks of EarthDesign Inc.
PO Box 530725 Miami, Florida 33153 E-mail: info@jamilin.com P: 305-893-9985, F: 305-893-9995