Wear Today's Triumph
Sacral Chakra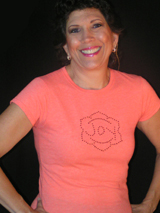 EmBody ♥Wear

SIZES: xs-XXL
100+ stylish choices!



Feng Shui Bagua
& ORANGE
Chakra Healing

Take the Chakra Test

Chakra Healing
Chakra Opening
Chakra Crystals
Chakra Balancing
Chakra Meditation

Chakra Activators work best when worn over the heart

Happy Orange-Tuesday!
Your Emotional Self
Happiness — Desire — Creativity — Emotion — Pleasure — Intimacy
Absorb primal Colors (Energy) of Creation
the radiations of the radiant sun,
for instinctive, automatic & deepened Self-Realization
Color: Unlimited Resource
Awaken your greatest potential

Instantly turn stress into calm
Expand creativity, vision &intuition
Develop greater inner peace & outward joy
Evolve your Inner Rainbow
Evolve YOU

Live in Living Color

Be a Color Alchemist!
You'll be tickled pink... Experience ColorAlchemy

| | | | | | | |
| --- | --- | --- | --- | --- | --- | --- |
| Vitality | Creativity | Power | Love | Focus | Intuition | Bliss |
| | | | | | | |
| | | | | | | |