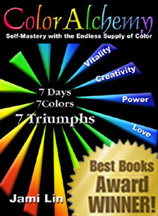 Special!
Feng Shui Today + The Essence of Feng Shui

Over 183 pages and 75+ illustrations

Chakra/Bagua Aromathearpy - Essential Oils

Specials Order Form (PDF) & RED HOT Specials
Essence of Feng Shui is available as an E-Book for immediate access


~Grand Master
Lin Yun's blessing
(video interview)

"Jami Lin clearly focuses on how fragrance brings harmony to one's body, family, society, and life.
I highly recommend this book as a way to share the ultimate pleasure to inspire seekers to attain
knowledge, fortune, pure heart, and good karma."


"Jami's work in using aromatherapy
in the creation of good Feng Shui is fascinating...
The book itself reflects her refreshing
enthusiasm and vibrant personality."

~Lillian Too, Feng Shui expert
Jami Lin discovered that fragrance can be a delicious and purposeful tool for personal expansion, as it is tied to the interpretation to the cosmos that were presented to us by ancient earth peoples.
In this fascinating book, Jami brings us their most sacred universal teachings, which include the integration of ceremonial fragrance to maximize spiritual growth and individual potential. As you read through this uniquely informative work, you'll learn:
how essential oils energize your body and home for greater health, wealth, and happiness




how to use fragrance everywhere to expand consciousness, reduce limiting fears, and to enhance all of life's possibilities!
Introduction and Table of Contents
Foundation
of Fragrant
Feng Shui

Chapter 1: The Essence of Feng Shui
Chapter 2: The Essence of Fragrance
Chapter 3: The Tree of Life
Chapter 4: The Energy Centers in your Body
Chapter 5: The Energy Centers in your Environment

Good Scents

Chapter 6: Assessing Your Life Situation
Chapter 7: Spritz Away!
Chapter 8: Bringing it all Together

$12.95 ONLY $8.98




E-Book by Email
Immediate Access


$9 Only $5.95

Special
Bonuses
More testimonials here