Want Brighter, Lighter and Dewy skin?
Reduced Age Spots?

Jami Lin's BEST RESULTS Secret
YOUth or HEMPpress Duo
works even better after...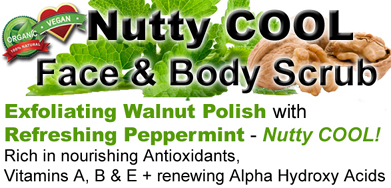 Polish your Skin with gentle foaming scrub that glides on and rinses away age!
Feel the energizing, minty tingle with
so-FINE, crushed walnuts that
exfoliates fine lines and wrinkles!
Stimulates cellular reNEWal and young-cell turnover!

You'll LOVE your radiant and smooth skin!
Ingredients: Walnut Shell, Organic Aloe, Organic Jojoba, Rosehip &
Soy Bean Oils, Glycolic, Malic, Tartaric, Lactic & Citric Acids, Wheat Protein, Vitamins: B5 & E, Organic Oatstraw & White Willow Bark Extracts, Xanthan Gum, Organic Alcohol, Tetrasodium EDTA , Organic Glycerin, Decyl Glucoside, Lauryl Glucoside, Cocamidopropyl Betaine, Phenoxyethanol
Essential Oils: Organic Lavender, Roman Chamomile, Pepermint
need this info on NEW page...with proper info
NO: Parabens, Gluten or Cruelty...just LOVE