Make Money!
Help Others Look and Feel their BEST

From your website and/or blog, earn 20% on retail for each sale. Learn More and Sign Up NOW!!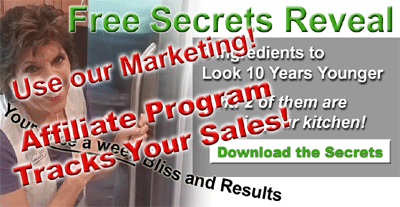 Use our Marketing and Affiliate Program to
Track Your Sales
Optional: Get your own, Customized Website
that automatically includes your
About You
Blog
ALL Social Media
Contact Form
more!
...all in one convenient place!

Host a "Play Date"
in your home and
Reduce Friends's Wrinkles!

It is so FUN doing FREE demos!

Everybody comments on
each other's reduced wrinkles!
Sales are so easy....
"Since you saw your wrinkles diminish in 5 minutes,
now get long-term RESULTS!"
Friends will LOVE You and their Younger Face!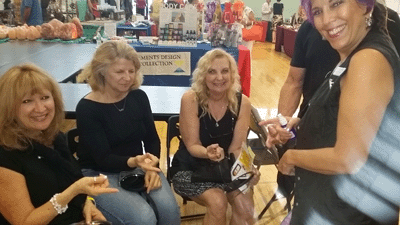 Me at market. LOVE it when I say,
"Please give me your finger for Youth Serum"
and all fingers get ready!
Email us for more details

Virtual "Spa Play Dates" work the same way as HOME parties except they are all online through Skype and Social Media.
How FUN to have a Virtual Spa Party when everyone wears their jammies!
Email us for more details

We love our Skin Care products and LOVE to CARE for other people's skin. We also LOVE learning and exploring possibilities.
Please email your proposal to us.

This is not MLM (Multi-Level marketing)
I do not care for the MLM business model.

My MLM experience has been that...

to make a return on your investment (time and money), you have to recruit people (friends) into the business

....that's really Yucky to me!

In my opinion, with MLM financials...

there is not enough profit to buy at wholesale and sell at retail unless you recruit a team which sells for you. Did I say, "Yuck!"

For me, business priorities are:

| | |
| --- | --- |
| • | Servicing clients (not recruiting people) |
| • | Offering finest, quality product for fair, excellent value |
| • | Support Retailers with true wholesale to cover their overhead, expenses, and make a fair profit. |

Wholesale and/or REP to Wholesalers
Wholesale: Initial minimum order is $750
REP: Commission Sales to Wholesalers

If interested in this category, you know the "about-you particulars" that we'd like you to email to us. Thank you!