Please schedule early - slots fill fast!
email/call 941-276-8689 NOW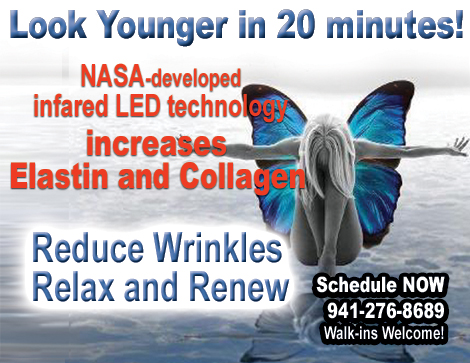 LED (light-emitting-diodes) / Infrared Regeneration
is a painless and relaxing skin-care treatment that:
enhances cellular metabolism

stimulates collagen and elastin production

improves the functioning of the lymphatic system
....resulting in younger, healthier-looking skin.

Treatments are performed by an esthetician and usually cost somewhere between $75 to $125 a treatment.
Our price is $1 a minute with FREE Youth Serum!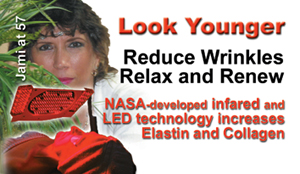 Developed by NASA, LED works by sending healing-light energy into the deeper layers of the skin. Red LED minimizes fine lines and wrinkles, treats sun-damage and stretch marks, lightens dark spots, and reduces redness.
LED light therapy can be a stand-alone treatment or part of a facial.
LED has no adverse reactions and no down-time. Professional machines are classified by the FDA as possessing "non-significant risk" due to the fact that they are completely safe and possess no possibility of harm from over-exposure.
The recommended professional LED protocol is six-ten 20-minute treatments per area once or twice a week...the more you do it, the faster you'll see results.
Maintain youthful appearance by using Youth Serum an AHA Night Creme for your home care and having an LED/Infrared treatment every month or two.
I use LED/Infrared on my face, neck, decollate, and hands...and it gives me plumper, firmer skin and a more youthful look! You will too!
Learn more about Jami Lin's
Youth-Enhancing Serums & ColorAlchemy Facials