Explore Videos Below


Enjoy ALL educational videos: click any link in left drop-down box

Instant Solutions
Phone RESULTS: Be SMART from the Start!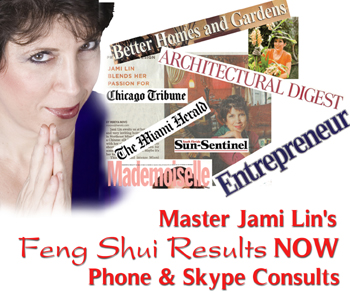 LOCATION: Start SMART
Select your NEW home wisely!
Instant Solutions
Phone/Skype Consultations are so EASY!
98% as Effective as Site Consultations
Jami shares decorative solutions from life-secrets revealed through
REAL Feng Shui success stories that you can apply for results too.

As if your "house was Master Jami Lin's home"
to Deepen LOVE, Improve HEALTH, Increase WEALTH, and Create greater JOY.

Learn how Jami reads your floor plan and Personal Success Map
(1 of over 2000 Bagua Maps -- specific to you and your home)
for your best furniture placement, your best color choices for each room,
where to place favorite accessories, and more!
Learn about "Priceless Prevention."

Don't wait to experience a "Feng Shui Storm"
(such as a broken heart, job, loss, or illness)
before for solving your decorative, Feng Shui problems!
"Your participation
in our programs are
vital to our success.
Your professionalism and expertise were invaluable in Dallas as well as in Atlanta
and California"
~Dallas Market Center

"ColorAlchemy
is advanced thinking for
infinite possibilities.
Explore ColorAlchemy,
you'll find yourself!"
~Horst M. Rechelbacher,
Aveda Corporation Founder

"Jami Lin's events
are always great!
They are educational interactive, and fun
that provide valuable
life-enhancing motivation."
~Bloomingdale's